MotoSafe Race vs MotoSafe Tour
2021-08-24
Motorcyclist!
Do you realize how much noise you are exposed to while riding?
You might expect that engine and background noises are the biggest threat. However, it turns out that the seemingly harmless wind is what most exposes motorcyclists to fatigue, decreased concentration and reflexes, and most importantly, causes irreversible hearing damage or even total loss. In addition to generating sudden low-frequency vibrations, it can expose us to whistling of considerable amplitude.
Alpine has designed thermoplastic, reusable earplugs with special acoustic filters, dedicated especially for bikers. In the MotoSafe series there are Race and Tour models. What are the differences? Which one to choose?
Motorcyclists want to hear their surroundings
It's time to debunk the argument that accompanies choosing high-dampening earplugs. Specialized stoppers do not reduce hearing quality. On the contrary, they minimize background noise, such as wind, which allows you to hear all the important things happening on the road. Just like sunglasses with sunscreen, which improves visibility on a sunny day instead of plunging the wearer into total darkness.
MotoSafe Race
MotoSafe Race are designed for high-speed riding on the track, highway or open helmet. It's all thanks to a 20dB average damping ratio (SNR). Featuring a unique Minigrip, they make removing the earplugs easy.
MotoSafe Tour
Calm riding requires less protection than track riding. When deciding on long motorcycle trips we will need a lower damping factor. The MotoSafe Tour with an SNR of 17 dB is the ideal solution for this situation.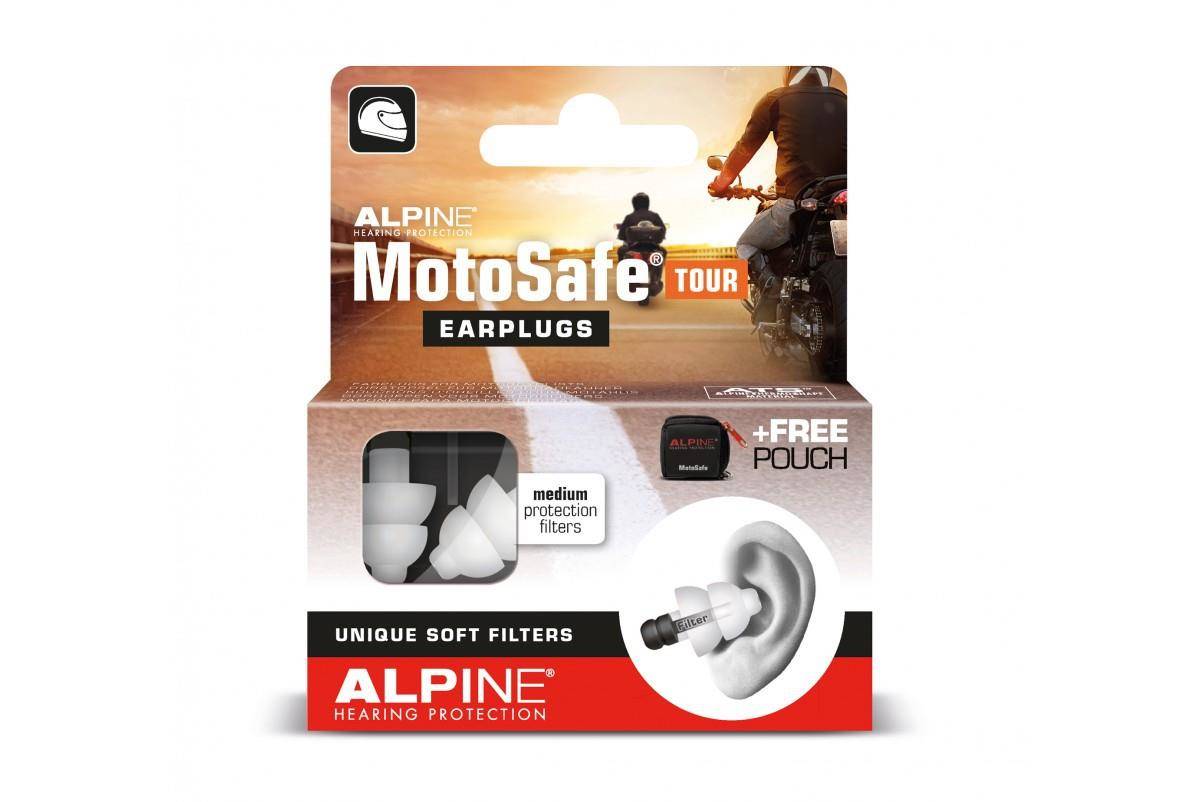 What do the two MotoSafe models have in common?
The innovative AlpineAcousticFilters™ suppress harmful noise without isolating you from your surroundings. They do not cause unbearable pressure on the ear canal thanks to their thermoplastic material. It perfectly adapts to the shape of the ear canal. Alpine earplugs allow the ear to breathe, so there is no risk of excessive wax production.
Service life of earplugs
Everything depends on the frequency of use and care. Alpine guarantees that the stoppers will retain their original performance for the first hundred applications. Prolonging the lifetime is possible by using the special ALPINE Clean Spray or by washing the stoppers with lukewarm water and a mild detergent.
Recommended
31,99 zł